⚡Chris Stewart on DLCs, Building, Ecosystem and much more!
Welcome to the 14th issue of this newsletter which covers everything at the intersection of the Lightning Network and Finance, as well as updates about LN Markets.
If you enjoy this content, feel free to spread the word!
---
🤓 Chris Stewart on DLCs
We will soon witness the outcome of the Discreet Log Contract (DLC) set up by Chris Stewart and Nicolas Dorier early September regarding the outcome of the US elections!
Chris and Nicolas formed their bet on the Bitcoin blockchain. Its appearance is no different than an ordinary multi-signature output and its outcome will be determined by an oracle (without them having to notify the oracle):
We were curious to know more about DLCs and Chris, founder & CEO of Suredbits and a leading expert in this field, has been kind enough to answer our questions.
What are DLCs and why they're cool?
Chris STEWART: DLCs are a new technology that allows us to do smart contracts on bitcoin. With Discreet Log Contracts, bitcoin can now be transferred based on a real world event such as an election.
Can you tell us more about your current work on this topic with Suredbits?
Chris STEWART: Suredbits, Crypto Garage, along with various independent contributors across the globe are working on the Discreet Log Contract specification. This set of documents describes how anyone can write their own code to create DLCs and also to become an oracle.
This is very similar to how Lightning has the BOLTs and Bitcoin has BIPs. Now it doesn't matter which implementation of DLCs your counterparty is using, since all wallets should work with each other. The same principle holds true for Lightning implementations, one user could be using Eclair and the other could be using LND.
Finally, you can check out our blog here to see our writing and research on DLCs.
Do DLCs only work for binary outcomes like bets?
Chris STEWART: For v0.1 of the specification, we are working on supporting three types of outcomes:
Enumeration
Large range events
Signing numbers (think BTC/USD market price)
Enumeration is fairly simple, if the list of possible outcomes is small you can just sign that outcome. For instance with the US presidential election it will be either TRUMP or BIDEN that wins the election.
Large range events are for when you have a range of numbers that are reasonably bounded. As an example, signing the possibilities of what the weather temperature could be tomorrow. It may range from -20 Fahrenheit to 120 degrees Fahrenheit. This results in 140 different outcomes - each representing 1 degree Fahrenheit.
Signing numbers is a bit more difficult. As an example, let's say we are interested in the BTC/USD spot market price on Bitfinex at 2021-01-01 00:00:00 UTC.
When New Years occurs, the oracle would be responsible for signing each digit of the BTC/USD price. Users of this oracle then construct bitcoin transactions predicated on the signatures the oracle produces and sends bitcoin to the appropriate place. Once the oracle publishes signatures, users can settle their bets with those signatures.
Are there any technical roadblocks to implement DLCs on the Lightning Network? What is the roadmap?
Chris STEWART: We think about DLCs on Lightning in two different ways:
Non-routed DLCs
Routed DLCs
Non-routed DLCs theoretically work today. If both you and your peer on the Lightning Network want to do a DLC, and you are directly connected with a Lightning channel, there is no reason it couldn't work today other than the engineering lift to integrate this into a Lightning node's infrastructure.
Routed DLCs require Point Time Locked Contracts (PTLCs) to work with some other features. This means we need Schnorr to be included in the base chain, bitcoin. Schnorr is part of an upcoming soft fork called Taproot. It's unclear as of this writing when this will be active on the bitcoin network.
Overall, what's your view on the future of the Lightning Network?
Chris STEWART: I'm bullish on Lightning. Near instant clearing and settlement of bitcoin is a killer feature especially for trading. If nothing else Lightning will allow traders to be more capital efficient as they can move BTC faster. It also allows them to reduce counterparty risk by allowing self custody of funds without incurring large latency penalties and fees by withdrawing funds from an exchange.
Now, if you want a fun and easy way to try out DLCs by yourself, check out Atomic Odds, a Bitcoin-native platform for P2P betting built by the team at Atomic Finance:
---
⚒️ Building
A public leaderboard is coming to LN Markets! Measure yourself against the biggest LNM whales 🐳
In the coming weeks and before the end of the year, we are going to add a few changes to trading on LN Markets:
Carrying policy: we will apply a new policy regarding carrying position over time. Indeed, we do not charge any overnight fee, but carrying positions on behalf of our customer comes with a cost for us. More details to come.
Price Reference: we are going to change our Price Reference to Deribit BTC-USD  Index, currently made up of the latest prices from Bitstamp, Gemini, Bitfinex, Bittrex,  Itbit, Coinbase, LMAX Digital and Kraken.
US residents: we have decided to stop serving US residents and will implement an IP address blocking.
Leverage: max leverage will be increased from x50 to x100.
We will keep you posted on the exact timing of these changes with more details, and we hope you understand their rationale. Should you have any questions, please feel free to reach out to us on Telegram or at hello@lnmarkets.com.
Oh and by the way, October has been our best month in terms of trading volume so far! Thank you all 🙏
---
🌱 Ecosystem
The pace of innovation in the Lightning Network ecosystem is staggering right now!
Non-exhaustive list:
Not on Lightning but on Liquid, Hodl Hodl has launched a Bitcoin lending platform which enables users to secure the loans with a unique Bitcoin multisig escrow system; all handled in the user's browser. No third-parties are involved in the lending process, with interest rates, loan period, and other terms set by the users:
---
🔮 Reading
In these troubled times, it's nice to just it down and read Nic's poetry:
A more technical, but not less fascinating read on the state-of-the-art Bitcoin infrastructure implemented by River Financial:
---
⚡ Bonus
What an awesome piece of Bitcoin art by Bitcoin Magazine to celebrate Bitcoin White Paper Day!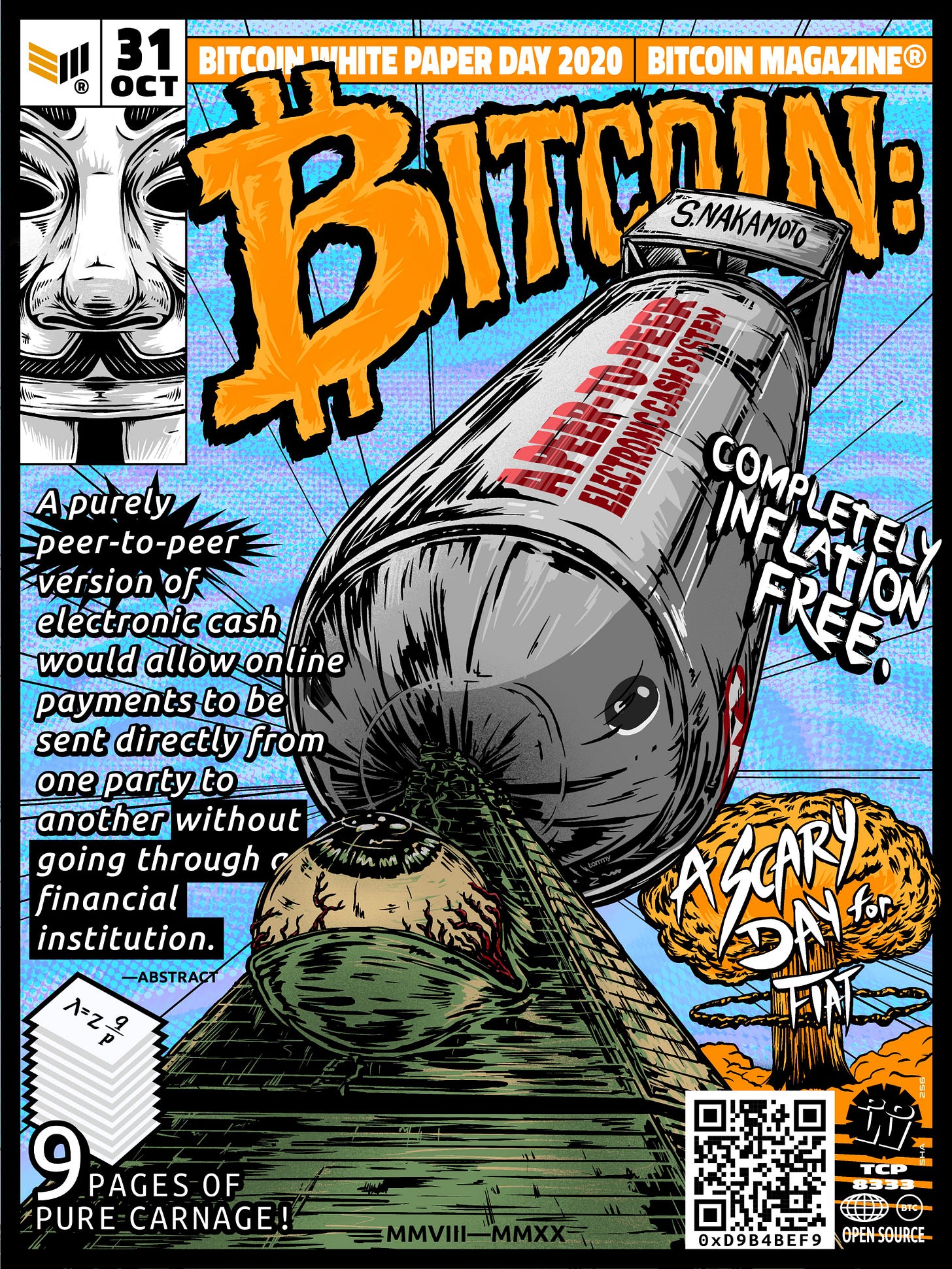 ---
Please feel free to reach out to us on Twitter and Telegram.
Thank you for your support and let's keep building the future of finance together!